Shahid Afridi was the main and popular cricketer of the Pakistani cricket team. Now he is retired from the cricket but he has continued his social activities and he became the top story in the news.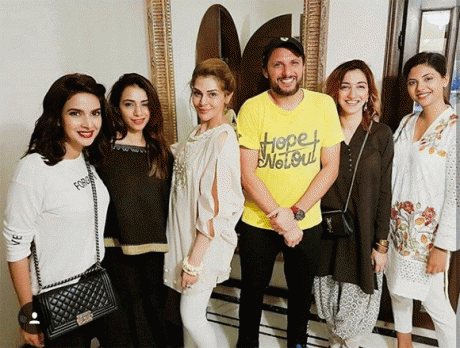 The ex all rounder, Shahid Afridi was invited in the sehri by Sana Bucha. In the invitation, there were some other leading personalities of the showbiz industry present in the invitation like the leading actress, Saba Qamar. A picture was made at that time, in which Afridi was standing among the women and he was looking shy and became the picture of 'touch me not'.
Shahid tweeted on the social media that 'Sana Bucha sister, I thanked you for inviting me in the sehri and I pleased to meet with various showbiz personalities.' Sana Bucha replied his tweet and said that she thinks that he is the great person, who not only call you your sister but also consider the sister as well. People liked his picture on the social media and they also gave their comments.