International Cricket Council has announced the ICC 2017 Awards for different international cricketers. Pakistani pacer, Hasan Ali won the ICC Emerging Cricketer of the year award. Hasan is currently number 1 in ODIs and he has managed the spectacular year in 2017 as he took 45 wickets.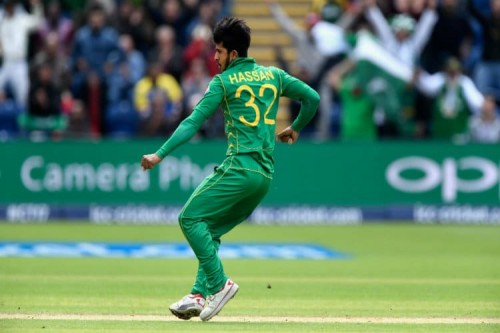 ICC Fans' Moment of the Year — Pakistan's Champions Trophy 2017 Triumph
Pakistan won the ICC Champions Trophy in England beating India in the final match of the big event being played on 18 June 2017 and this moment was declared the stunning ICC Fan's moment of the year.
ICC ODI Cricketer of the Year — Virat Kohli
Virat Kohli is the promising cricketer and he has made 32 ODI centuries at the age of just 29 years. He is getting close to his hero, Sachin Tendulkar all time record of 49 centuries. If he continued making runs consistently, then he get close to the centuries of Little Master.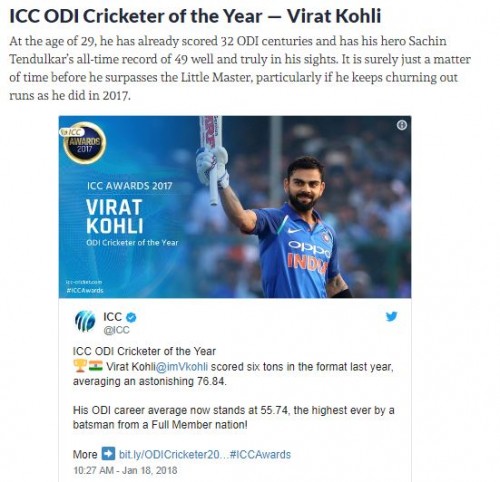 ICC Test Cricketer of the Year — Steve Smith
The Australian skipper, Steve Smith has scored runs consistently and he is piling up the centuries and fifties to score more and more runs. During 2017, his performance remained excellent. He played 16 test matches and scored 1875 runs at the average of 78.12 in which 8 centuries and five fifties are included.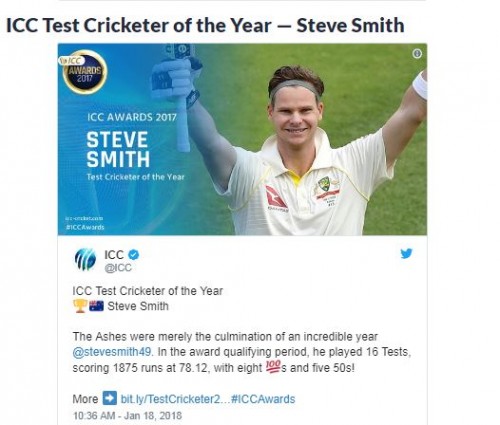 ICC T20I Performance of the Year — Yuzvendra Chahal
Yuzvendra Chahal has been recognized for the wonderful haul of 6/25, which he showed this performance against England in Bengaluru and he wondered every batsman, who came in his way and he grabbed his wicket.
ICC Umpire of the Year — Marais Erasmus
Marais Erasmus has joined the Emirates Elite Panel in 2010. He stood in 47 tests and 74 ODIs and also in the ICC Champion Trophy final and in the 26 T20Is.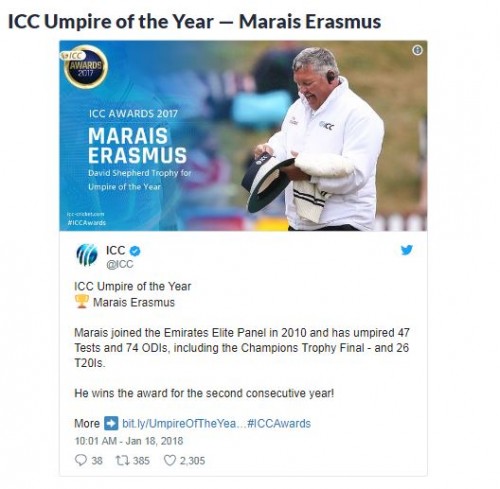 ICC Associate Cricketer of the Year — Rashid Khan
Rashid Khan is the afghan player and he took 60 wickets as the associate cricketer in the calendar year and he also got 43 in the ODIs, which is a record.