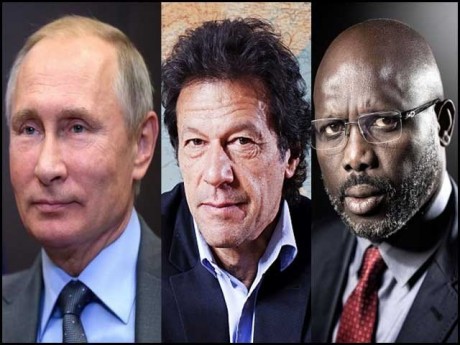 Lahore, Imran Khan will be third sports ruler of the world. The victorious captain of Pakistani cricket team of the world cup 1992, Imran Khan is now ready to become the prime minister of Pakistan after his long and tiring 22 years of struggle. The chairman of PTI, Imran Khan got the success in the politics and there are many other players, who got success in sports and after that they got success in politics. According to the foreign website, two of them are the presidents of their countries.
George Vee was considered the best footballer of Africa and he got retirement 14 years before and he stepped into the politics and after that he became the president of Liberia last year. The only 8th dawn black belt of Russia in Judo, Viladimir Putin is now president of his own country.
The Philippines most successful boxer, Mini Paquo, the successful footballer of Brazil in 1994, Romario ad Glenn Lezras of Australia got the seats in the senate in their countries. The New Zealand player, who played important role in winning the womens rugby world cup 1998, Luica Wall are the members of their parliament and she has the great importance in the party.
The British athlete, Sebastian Koy, who won the gold medal for his team in 1980 and 1984 1500 meters race, is also the member of the parliament. The ex heavy weight champion boxer, Vitali Kalishkov has the post of mayor.
Arnold Schwarznegar won the world title in body building came back from acting and he stepped into the politics and he became the governor of California.
The ex American president Gerald Ford is the capable footballer during his youth but he did not represent his country. There is the long list of the capable Indian players, who are elected as the member of the parliament.