Ajman, In the 5th Blind Cricket world cup, Pakistani cricket team defeated the Australian cricket team with the record margin of 393 runs. The match was played at MCC Ground Ajman and Pakistan won the toss and decided to bat first. Pakistan scored 563 runs for the loss of 4 wickets in the allotted 40 overs. This is the world highest one day international score of any team of the world and Pakistan has improved their previous world record.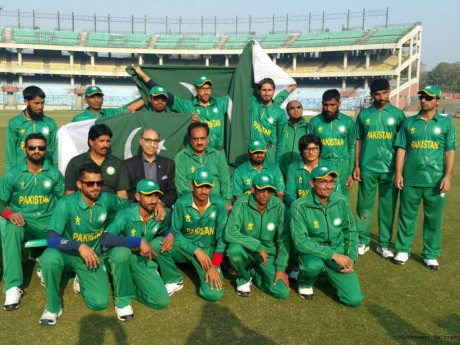 Green shirts played against South Africa and set the world record of 517 runs at their own ground in 2010. In this ODI, Amir Ashfaq scored double century and he made 208 runs and got retired hurt. Sana Ullah was declared out at 143 individual total. Haroon Khan also scored century in this match. In response to Pakistani cricket team, Australia showed poor performance and their wickets were fallen one after the other and the whole team got out at just 170 runs in 32 overs. Mati Ullah got two wickets while Haroon Khan, Muhammad Ijaz, Muhammad Asif and Zafar got one wicket each.
For More Details Click here.