Lahore, the national cricketer, Shoaib Malik has shown his indication that he wants to continue his international career.
He congratulated his friends, relatives and the fans on the social media website, Twitter and wrote that everyone should have time for his family to spend it with them. He wanted to talk with them and asked that they can talk with him on the social media. When a fan asked a question from him whether he wants to get retirement and the all rounder replied with no. his reply shows that he wants to continue his international career and he is not thinking about getting retirement from the international career.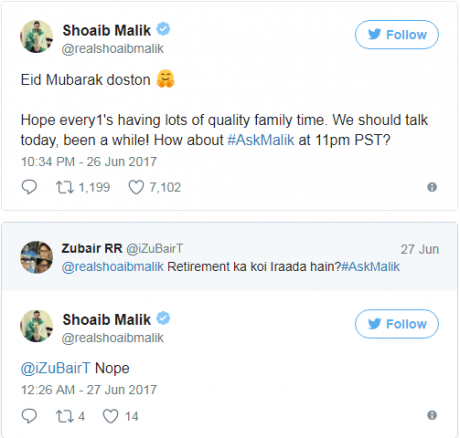 Shoaib Malik was part of the Pakistani squad, which won the ICC Champions Trophy. He could not show the remarkable performance during the match but after losing the first match against India, he delivered a speech in the players meeting and insisted the colleague players to show their tremendous performance in the ground and most of the players liked his speech. In the final match, Pakistan beat India and the players that his speech played the main role in the victory of Pakistani cricket team in the final match against India.