London, after the leading and well known Indian batsman, Sachin Tendulkar, his 17 years old son, Arjun Tendulkar started showing his talents. There is difference between father and son that Sachin was batsman and he beat the bowlers but his son, Arjun is the bowler and he disturbs the batsmen.
An interesting event was taken place in Lords few days before during the practice session. Arjun Tendulkar was doing practice in Lords with the national cricket team of English and Arjun was bowling to the English wicketkeeper batsman, Johnny Bairstow. The fast ball of Arjun Tendulkar was hit on the left foot of Bairstow and he has to leave the net practice.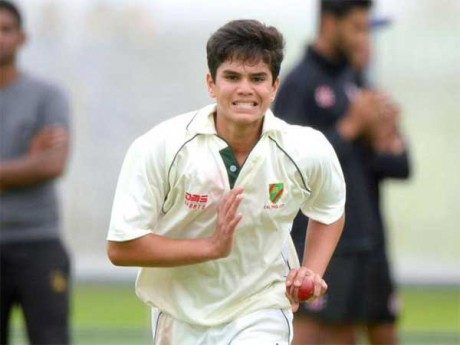 But it is good news for England that the injury of Bairstow was not dangerous and he became fit after the medical aid. He is also part of the national team during the test match against South Africa. Arjun Tendulkar is looking in the Lords cricket ground carry out the practice. The house of Sachin Tendulkar is located near to Lords and Arjun Tendulkar reaches to Lords very easily.
Arjun is also looking with Pakistani leading and popular fast bowler, Waseem Akram many times. It is also said that whenever Waseem Akram has a chance, he teaches him the tips of the fast bowling because Arjun is also throwing the ball with left hand like Waseem Akram.