All posts in News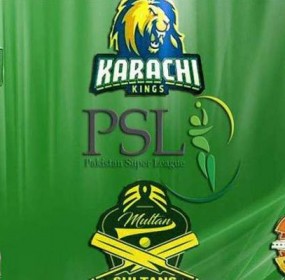 The important Twenty20 match between the two aggressive and talented teams of Karachi Kings v Quetta Gladiators in Pakistan Super League 2019. During the drafting process of the local and international players for PSL 2019, both the teams of Karachi …
Continue Reading...

During Pakistan Super League 2019, another aggressive match between Peshawar Zalmi v Multan Sultans will be played. The teams of Peshawar Zalmi vs Multan Sultans have various overseas
Islamabad United v Karachi Kings are going to play their next Twenty20 match on 23 February 2019 during Pakistan Super League 2019 and both the teams of Karachi

Since Pakistan Super League 2019 was started, the important and aggressive match of Lahore Qalandars v Quetta Gladiators will be played on the scheduled date. The match of

During Pakistan Super League 2019, the match between Islamabad United v Peshawar Zalmi will be played on 22 February 2019. The match of Peshawar Zalmi v Islamabad United

The T20 match between Quetta Gladiators v Peshawar Zalmi of Pakistan Super League season 4 will be aggressive as both the teams have various talented and aggressive players.

Pakistan Super League edition 2019 is going to be played in UAE and Pakistan and the teams of Multan Sultans v Lahore Qalandars will play their T20 match

During Pakistan Super League season 4, the important match will be played between Peshawar Zalmi v Karachi Kings. The players will show their performance in the match of

The match between Quetta Gladiators v Multan Sultans of Pakistan Super League season 4 will be played on 20 February 2019. The match between the teams of Multan

Pakistan Super League season 4 is being played in UAE and Pakistan and the teams of Peshawar Zalmi vs Lahore Qalandars will play the 7th T20