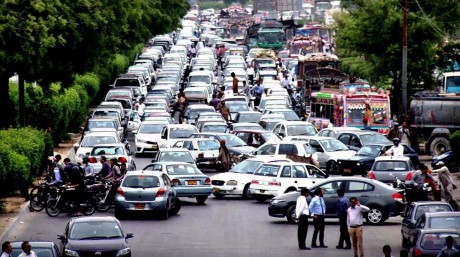 Pakistan Super League (PSL) is now coming to Pakistan and the matches will be played there. The matches, which were supposed to be played in Lahore, now they will also be played in Karachi at National Stadium. The city government has devised the traffic plan to avoid any inconvenience and makes the lives of citizen easier and safer. PSL in Karachi Traffic Plan.
Karachi traffic police has prepared the traffic plan for Pakistan Super League for five matches as the decision of playing matches in Lahore came little bit late. It is also expected that plan will be carried out for other matches. According to traffic police, five parking areas have been designed for PSL 4 plan. Four traffic plans will be made at University road and the fifth traffic plan will be made at Dalmia.
The parking area at University road is added with Expo Center, Hakeem Saeed Ground, Sunday Bazaar Ground and Federal Urdu University Ground. The visitors will be taken from parking area to National Stadium through shuttle service. The visitors are required to bring their original computerized national identity card. The roads from Karsaz to Hassan Square and Agha Khan Hospital gate number three will be closed for the regular traffic and the roads on back of National Stadium will be closed. The residents of this area will go there after showing their CNICs.
The public can reach Agha Khan Hospital and Liaquat National Hospital from New Town stop. Rashid Minhas Road and Shahrah-e-Faisal will remain open. The traffic, which goes to Karsaz and Dalmia will use alternate route and heavy traffic will not be allowed to enter there and it will go from Liaquatabad and Jail Chorangi.