All posts in Video Highlight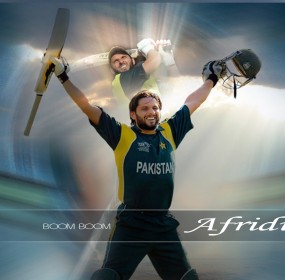 Shahid Afridi is a Pakistani professional cricketer. He is regarded as one of the greatest big-hitting cricketers of all time, where he has the longest six of any form of the game. He also holds a record of taking most …
Continue Reading...


On 10 March 2016, Afghanistan and Hong Kong have played 6th T20 match of ICC World T20 in India. Afghanistan team won this T20 match by 6 wickets. Here

Watch online full scoreboard of ICC World T20 2016 Scotland vs Zimbabwe t20 match of 10 March, 2016. Zimbabwe won this match by 11 runs. Here is full

On 8 March, 2016 Afghanistan and Scotland have played 2nd T20 match of ICC World T20 and Afghanistan won match by 14 runs. Afghanistan: Asghar Stanikzai (c), Amir Hamza,

On March, 8th 2016 Zimbabwe and Hong Kong has played 1st T20 match of ICC World T20 2016 at Nagpur. Zimbabwe bated first and gave target of 158

Pakistan Super League series of T20, s 6th match has played Karachi against Islamabad here is the full video highlight of Karachi Vs Islamabad.
Quetta Gladiators beat Peshawar Zalim after very tough fight on 19 February 2016 and advanced for PSL final. Quetta team bat first and gave target of 134 and

On Feb, 14 2016 Quetta Galdiators and Peshawar Zalmi has played 17 T20 match and Shahid Afridi took 5 wickets and Quetta with 7 runs and Afridi's team

Yesterday Pakistan and India have played final match of Hockey in South Asian Games 2016 in Guwahati. Both of teams have played well and after long fight Pakistan