All posts in Cricket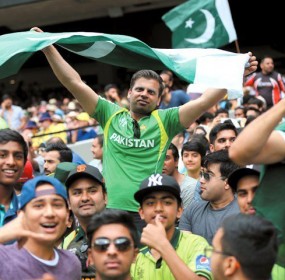 Sydney, the crowd has set up new records during the test matches against Pakistan. The spectators came in large number in all three venues of Brisbane, Melbourne and Sydney and they got the enjoyment during the competitions. On the last …
Continue Reading...
The world known off spinner, Saeed Ajmal said that the defeat from Australia is the result of the wrong selection of the team. Pakistan cricket team lost all
Karachi, Muhammad Hafeez is the leading all rounder of Pakistan and he has been part of the national team in various international competitions. He showed his

Pakistan Cricket Team has arrived at Australian city of Brisbane for ODI series. The first ODI of the series against Australia will be played on 13th

Sydney, Pakistan and Australia played the three test matches in the current tour to Australia series, in which Australia won all three test matches with the convincing margins.

Sydney, Australian opener, David Warner made the second fastest fifty of the history of test cricket. David Warner got this honor of making the fastest fifty in the

Lahore, The head of executive committee of PCB claimed that West Indian cricket team got agreed to play the cricket match in Lahore. He said that they talked

Melbourne, Pakistan played the second test match against Australia at Melbourne Cricket Ground and defeated Pakistan cricket team in the second test match by one inning and 18

In Melbourne test, the rain stopped the play when Pakistan was 142 runs for the loss of 4 wickets in their 1st innings. Pakistani batting is underway in