All posts in Cricket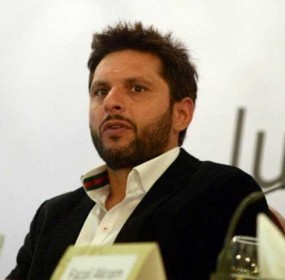 The ex-captain of Pakistan cricket team, Shahid Khan Afridi said that it is necessary for the Pakistani people to increase respect and honor of the country but we became laughing stock around the world. Afridi tweeted on the social media …
Continue Reading...

The fast bowler of Pakistani
national team
,
Roman Raees
has also received the offer to play the county cricket. The


Lahore, The Chairman of
Pakistan Cricket Board
,
Shehryar Khan
left the office of the chairman August 2014 of the PCB. He

Lahore, World XI
will tour to
Pakistan
and each player will get at least $1 lac of the suggested world eleven team. According


Dubai, ICC has issued the new ranking in the test matches and Azhar Ali is promoted to the 6th position from 8th ranking after improving in two numbers.

Mumbai, The captain of Indian cricket team, Virat Kohli has gifted a bat to Pakistani star player, Shahid Afridi for his welfare organization. The ex captain