All posts in Tennis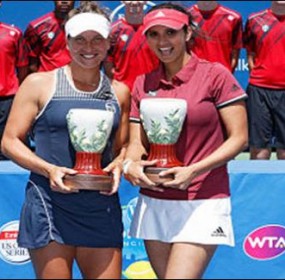 Indian Tennis star, Sania Mirza reached at the top position in WTA double ranking. She got this milestone after getting success in the final of Cincinnati tennis. She won the double match with her partner, Barbora Astrekova and she defeated …
Continue Reading...

Sania Mirza and Martina Hingis are the most successful couple of the tennis and both the players have made the couple in 2015 and

Martina Hingis and Sania Mirza have made their place in the 3rd round of Wimbledon championship women's double matches. On the other hand, Roger Federer and

Famous Russian tennis player has been banned for playing international tennis for two years by International Tennis Federation for using a recently listed prohibited drug. Initially, Maria was

World no 1 Novak Djokovic has completed the 'grand slam' of his career by winning French Open trophy and he became the 8th player to win
Pakistan Cricket Board has suggested India to include Pakistani players in order to raise the popularity of Indian Premiere League. Executive Committee Chairman Najam Sethi said

Indian tennis star Sania Mirza participated in Bollyowood star Shahrukh Khan's dinner part and also took selfies. Sania Mirza has recently arrived India after winning Italian Open title with

The dope test of famous Russian tennis star and former World No. Maria Sharapova came positive. During a press conference in Los Angeles, Maria told that she remained

The pair of Indian tennis star Sania Mirza and Switzerlands's Martina Hingis has won the Australian Open tennis women doubles' title after defeating their opponent pair.

American Serena Williams qualified for the semi final of Australian Open after defeating Russian Maria Sharapova in straight sets. Poland's Radwanska has also made