All posts tagged PCB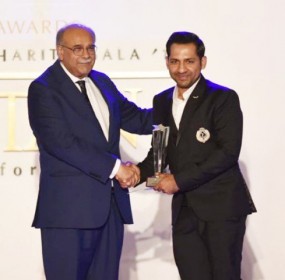 Lahore: Pakistan cricket board awards event festival was being robbed by Hassan Ali, Babar azam and sarfraz Ahmed. In the event being organized by the Pakistan cricket board the best player of t20 was Babar azam, and he received this …
Continue Reading...
Pakistan Cricket Board (PCB) is going to manage the honor and award the hardworking and efforts of the Pakistani players. PCB has gone the stop and labeled the

Pakistan cricket board has decided to serve the show notice to the Pakistani all rounder, Muhammad Hafeez. According to the sources, Muhammad Hafeez gave an interview to the

Lahore
: chances of making
Moeen khan
again the manager of
Pakistan cricket team
,
Talhat Ali
is going to leave his responsibilities after
Lahore, Pakistan Cricket Board
put ban on
Umar Akmal
for three matches and also imposed fine of 10 lac rupees. The PCB

Lahore, The Chairman of
Pakistan Cricket Board
,
Shehryar Khan
left the office of the chairman August 2014 of the PCB. He

The ignored players in central contract are dejected as they could not get more than praises after scoring lots of runs in domestic cricket. Umar Akmal made
national selection committee
has called the
27 selected players
on 3 July in their
High Performance camp
of 10 weeks.